Although popular in the Victorian era, the curved busk began to be thought of as unhealthy, and along with "health corsets" (mentioned in an earlier post), a straighter busk came into use during the end of the 1890's.
Corset Ad c. 1903
This new straight busk did not press against the internal organs quite as much, and gave a more upright posture.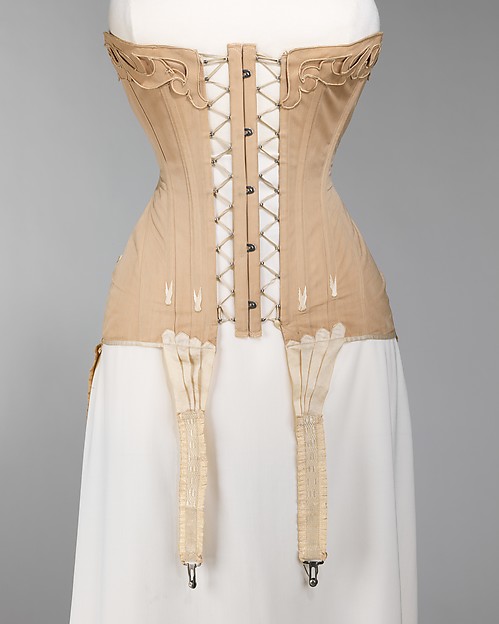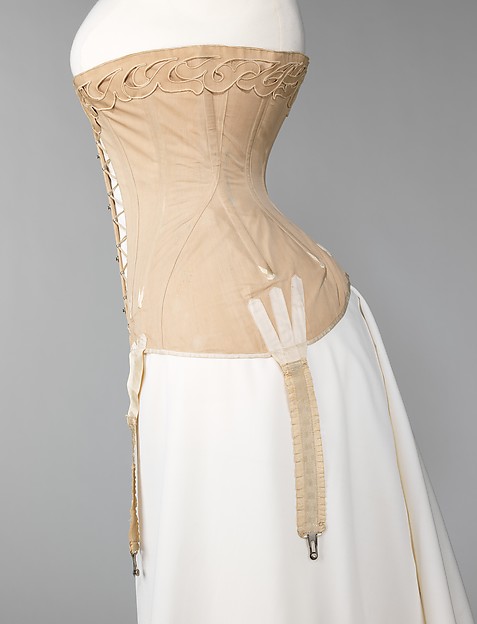 French cotton, metal, elastic, bone and silk corset c. 1905 source
After 1907 the wasp waist became less acute

with the

introduction of the "Directoire" style in dress by Paul Poiret, inspired by post French Revolution fashions, and high waists and long slim figures were fashionable once again. C

orsets therefore became straighter and longer,

starting just above the waist to well down the thighs almost to the knees, resulting in a long slim silhouette.

They

no longer came up to support the breasts, although a full bust was still fashionable.
The new corsets still used a straight busk and had a straight front but their function was not to compress the waist but to minimize the stomach and hips. The look was no longer the hourglass - waist, stomach and hip measurements had to be more or less equal. Some early long line corsets were very long, often reaching near the knees, which made sitting down quite difficult. These corsets often had elastic gusset inserts which were supposed to increase comfort level and allow bending, one hopes. There were also deep hip gores on the corset to allow for the natural shift backwards of the hips and buttocks. Many corsets now also had stocking suspenders attached to them, rather than separate garters.
This new straight fronted corset relied on clever cutting techniques, such as cutting on the bias, rather than boning, to give the corset a shape it never had before. Some boning was still used, but it had to be long and flat, and on average most corsets only had about 12- 20 bones, spaced evenly around the body, and it not extend the whole length of the corset. Whalebone was also becoming rare and very expensive at this time, and steel was often used where boning was needed.
Warner's introduced "Rust Proof" steels (which were watch-springs covered in paper) and the Spirella company introduced the spiral bone (which is still used in corsets today).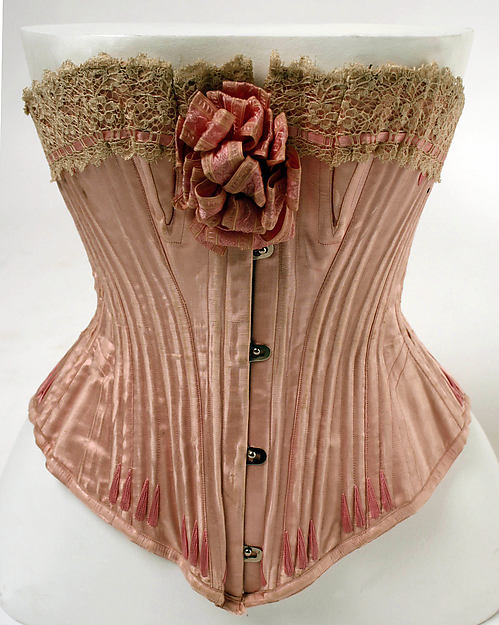 French silk corset c. 1905 source
Traditional corset fabrics such as coutil, cotton and linen were used, but damasks and silk became more popular, and the famous corset colour, Tea Rose pink, was introduced. Trimming was used, but was usually in the form of just a little ribbon around the top,
although
some, like the one above were more decorative.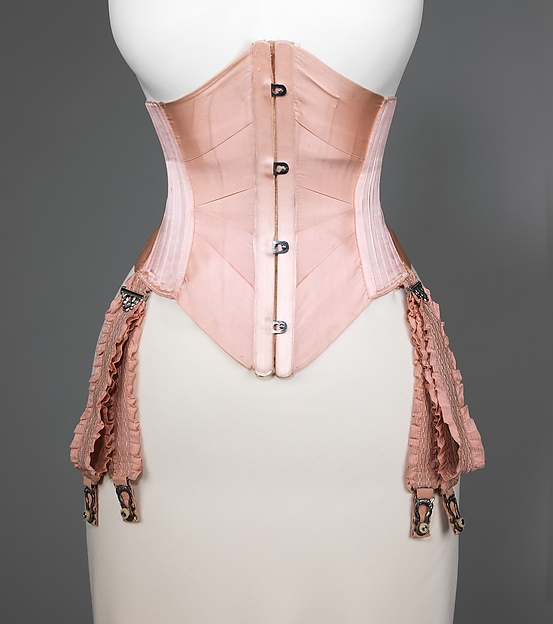 Ribbon waist cincher in Tea Rose Pink c.1908 source
For sporting or active wear, and also for sleeping in, shorter corsets made out of strips of ribbon (ribbon corsets and waist cincher corsets) became popular. Once again corsets became the symbol of wealth, as the longer corsets were difficult to function in and to put on, and wearers really needed a servant to help them dress and complete everyday tasks.
As the bust was no longer supported by the corset, a bust bodice became essential. Simple darted bands a few inches wide that covered the nipples ,with fine straps, were worn by about 1914, and elastic belts were also popular with younger women when they were active during the First World War. Several countries maintain that they produced the first version of the bra , but

Mary Phelps Jacobs

patented her 1908 invention in 1914, under the name of Caresse Crosby (before selling it to Warners).
By 1918, once the First World War was over, women's attitudes and fashions shifted. There could be no return to the heavily boned corset as it had been in former times, and a shorter and a lighter boned model of corset would start to replace it. This new style of corset ended just above waist level and although it still came low down onto the hips, paving the way for girdles and the changing role of woman.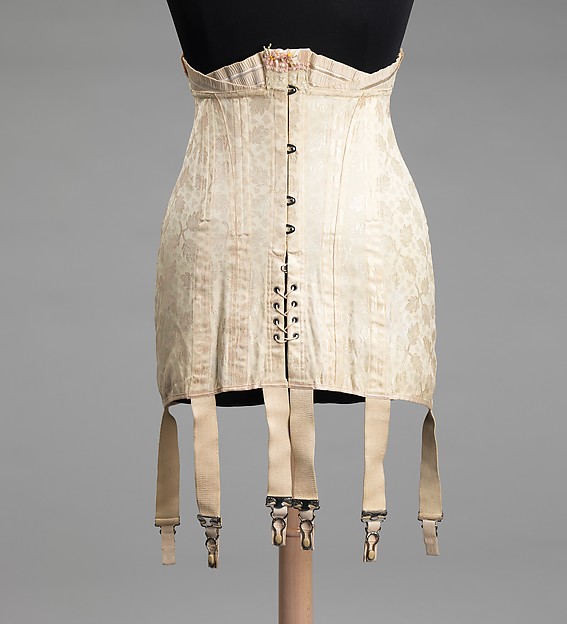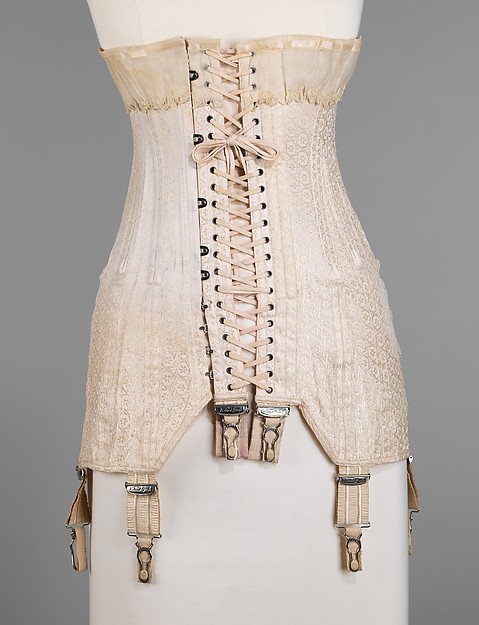 American cotton, bone, metal, elastic corsets c 1915 and 1917 source
I mean, can you imagine wearing a corset while nursing wounded soldiers?
I think the late Victorian and early Edwardian periods are my favourite for corsets. What about you?
Next I'll look at some of my favourite dresses and accessories from those periods, including parasols. Meanwhile, if you want to make you own corset, have a look at this site:
There are vintage corsets for sale here at Corsets and Crinolines, or handmade corsets here on Etsy.
It doesn't hurt to look, does it!