So obviously from my blog title you can tell I love vintage, and cherries. If you follow me on pin interest you will also pick that up! Living here in north Queensland, though, we don't get many cherries, only a few around Christmas that are flown in from our southern parts. But a girl can dream…..and I found a sweet little booklet today on recipe curio, circa 1955.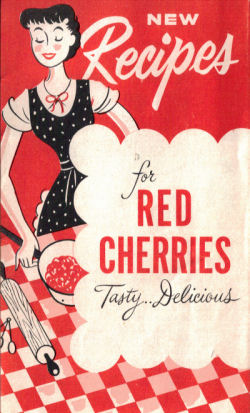 There is a scan of the whole booklet, with recipes like lattice cherry pie, cherry cobbler and cherry upside down cake. Drooolll…..If you are able to try out a recipe, please do let me know how you went.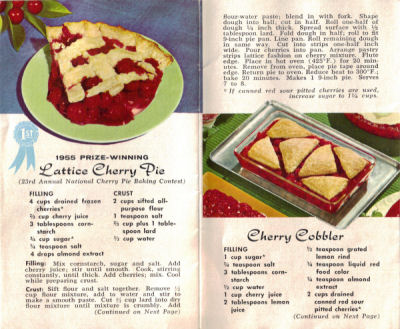 And you know what would go well with that piece of cherry pie? A coffee. Here is a lovely American 1942 coffee ad from my collection:
I can't imagine anyone say that coffee keeps them glamorous today, can you? And personally, although I love coffee, a cup at bedtime would have to be decaf, or I'd wake up at midnight and not go to sleep again. I also love the way the first ladies radio show helps with the coffee advertising.
Australians in 1942 rarely drank coffee – it was really introduced by Americans during WWII, and then improved by the immigration of Europeans after the war. Now, we are a nation of coffee drinkers, and spend almost twice as much on coffee as we do on tea. Instant coffee is huge business in Australia, with it accounting for 80% of all hot drinks consumed in the home.
Here is an Australian 1942 vintage ad for coffee, by Bushells, known now a great Australian tea makers. I imagine that during the war when tea became rationed (after the Japanese took control of the tea growing nations), they tried to increase their sales of coffee instead.
And here is a lovely photo from the Australian War memorial of German Internees enjoying a cup of coffee in the little victory garden they have growing at No 1 camp in Tatura, Victoria, nicely squeezed in near the hospital.
I am off to enjoy a cup, before it gets too late!
Deb xxx