Paris July 1942 Source
The Melbourne Argus reported on 15 July 1942 that there had been a wave of sabotage in Paris on the Eve of Bastille day:
On the eve of Bastille Day, France's national day, a wave of sabotage swept through France… according to reports received through the Low Countries.
Bombs exploded in offices o f the French Tricolour (anti-Bolshevik ) Legion and the People's party at Bourges. Extensive, damage is admitted, but no casualties are reported. Railways tracks are reported to have been blown up at Monchy, near Arras; Cayeux, near Saint Valery; and at Anviaiuz.
Lt-Gen Niehoff, German commander at Lille, has announced that 50 Communists have been deported for acts of sabotage.
Hundreds of members of the Gestapo have arrived In Paris,where a big demonstration on Bastille Day is expected, despite the ban on flying French flags. Vichy Government has decreed that there shall not beany national celebrations today, and that the day shall be regarded as one of mourning. Patriots throughout unoccupied France, however, intend to display the Tricolour and sing the Marseillaise.
Sabotage also is increasing in the Low Countries. Warning against this, General von Falkenhausen, Nazi Governor of Belgium, has announced that the Allies are trying to stir up the population by radio and leaflets.
In Holland the Germans have seized a large number of new hostages, and General Christiansen, German commander, has threatened that they will be shot if sabotage continues.
.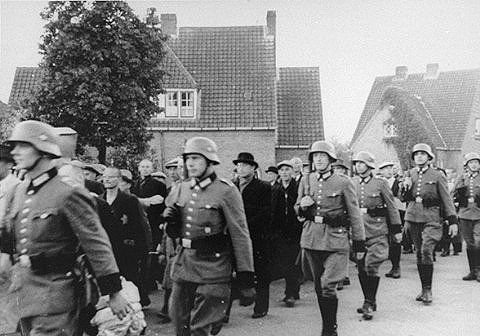 Dutch Jews begin for Auschwitz Source
Indeed thousands of Dutch Jews were arrested in Amsterdam on 14 July, and deported to Auschwitz, where many were gassed. In the Przemysl, Poland, the ghetto was sealed by the Nazis. The news bulletin of the United Romanian Jews of America had been publishing reports of atrocities committed against Romanian Jewry since June 1942, with headlines like "Mass Execution of Jews." The US government, however, remained silent. French Jews, who had been integrated into French Society for around 150 years, would be next, with round ups beginning in a few days time in Paris.
On a happier note, we have had our croissants for breakfast, and wish everyone a safe and happy Bastille Day!
Source
Cheers!
Deb xxx